Cash on the Rise in New Zealand
Cash circulating in New Zealand has grown by around 15 percent year on year during the second quarter of 2020, driven by people withdrawing cash from banks to provide them a tangible store of value, and to ensure its availability as a payment method, should others fail.
It is common to see an increase of cash in circulation in uncertain times. New Zealand saw rises ahead of the year 2000 (fearing the 'Y2K Bug'), during the 2009 swine flu epidemic, and following the 2011 Canterbury earthquakes. The present COVID-19 pandemic once again has people turning to the security offered by hard cash.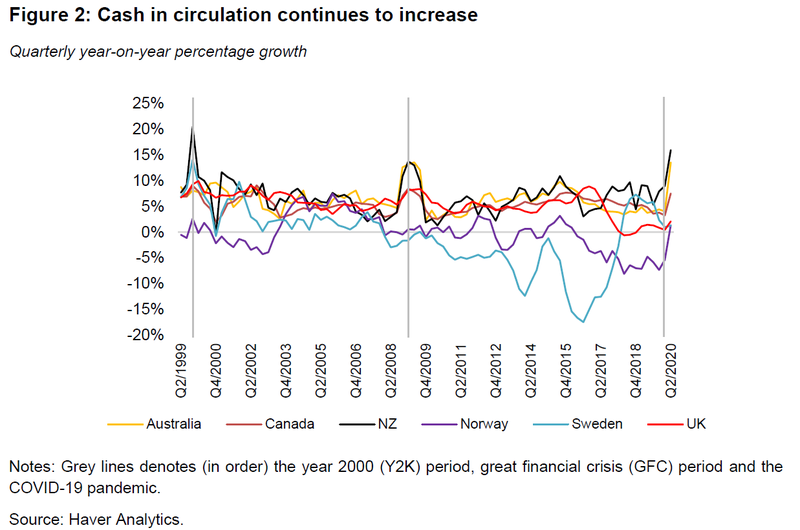 Overall, however, cash usage is in decline as other payment methods become more widespread. Responding to this, the Reserve Bank – Te Pūtea Matua has said it is considering reforms to its cash systems and infrastructure, to ensure its unique benefits are not eroded or lost.
Cash is being used less as a means of payment and access to cash is declining. However, cash provides important benefits to many people, including legal tender money, social and financial inclusion, peer-to-peer payments, backup payments, and privacy and autonomy.
Assistant Governor Christian Hawkesby
The Reserve Bank – Te Pūtea Matua
The bank is deliberating measures including a revision of vaulting arrangements and banknote standards. A 'single provider' of cash—possible through a private-public partnership—is also under consideration. No specific plan or timeframe for this has yet been given.
Last Updated: Oct 23, 2020