Can Cash and Digital Currency Coexist?
With the European Commission considering a digital euro, Cash Matters' Co-Chair Gerben van Wijk appeared on Good Morning Europe last week to address how this might affect the world of cash. Can cash and digital currency coexist? The simple answer is: yes.
For the longer answer, we need to consider why people still use cash, and the challenges a digital currency might face.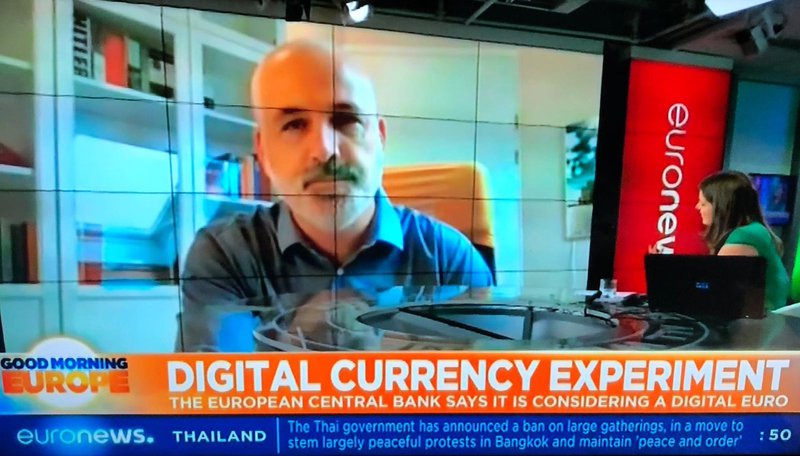 'This hasn't been done before,' notes van Wijk. 'A lot of central banks have looked into it. Sweden's Riksbank, for example, has considered an e-krona, given their interest in reducing cash as a transaction method. The European Central Bank is wisely considering a trend in the market, and whether it should get ahead of the private sector in providing solutions.'
So, does this mean digital currency could replace cash in payments?
'In several countries—including my own, the Netherlands—finance ministers are moving to protect cash as legal tender, and ensure people's right to pay with cash,' says van Wijk.
The motivation behind preserving cash as a payment option is to protect consumer choice, most especially that of individuals who do not have bank accounts, or who for budgetary, technical or other reasons simply prefer cash to digital alternatives.
While digital currency offers consumers an additional payment option, it comes with some serious challenges, such as cyber risks and people's right to privacy. Digital currencies—especially those provided by private companies—will no doubt look to obtain and monetise all possible data concerning the spending habits of users. For a Central Bank digital currency, privacy will still be an issue, but the risks should be lower since it would not build the currency around this premise.
At a virtual International Monetary Fund event last week, where European Central Bank President Christine Lagarde said the ECB is very seriously considering the creation of a digital euro, she summarised the situation between cash and digital succinctly.
A digital euro will never be a substitute for cash. It is a very good supplement and a very good partial substitute for what was being done physically.
Christine Lagarde
President of the European Central Bank
Lastly, with coronavirus (COVID-19) still a serious issue worldwide, the question of whether or not it is safe to conduct transactions using cash has been raised in some quarters.
'Multiple studies have shown handling cash does not present a serious risk of spreading coronavirus,' says van Wijk. 'Good hand hygiene is always advisable, and is now more important than ever, but while we should also consider the cleanliness of surfaces, no one is proposing we stop touching our phones, our keys, the wallets in which we keep our cash and cards… We simply need to apply common sense to staying safe.'
Last Updated: Oct 21, 2020